Professional chain solutions
KOBO USA is a well-known and respected partner of automotive manufacturers and their sub-suppliers. Our consultative approach and individualized solutions distinguish us from our competition.
Chains convey equipment throughout automotive plants in almost every application such as: scrap metal removal in the press shop, overhead conveying, cross transfers, spray booth applications, oven chains in the paint shop and slat conveyors in the assembly line.
Our engineers develop and manufacture high-performance chains in lubed or lube free design, in normal or galvanized steel, in powder coated or stainless steel. Every application is unique and requires adjustments in the chain design. KOBO is your one-stop shop for chains, sprockets and attachments.
KÖBO chains can be low-maintenance or no-maintenance across a wide range of applications, e.g.:
Transfer chains
Dryer chains
Chains for painting applications
Chains for car wash systems
And more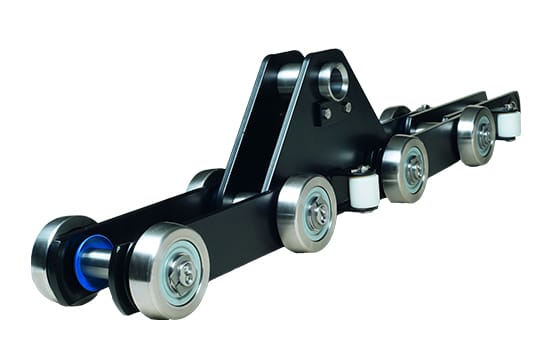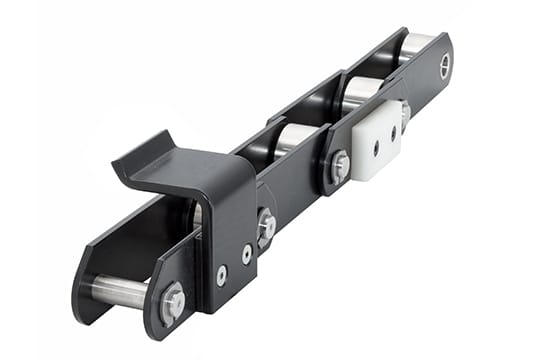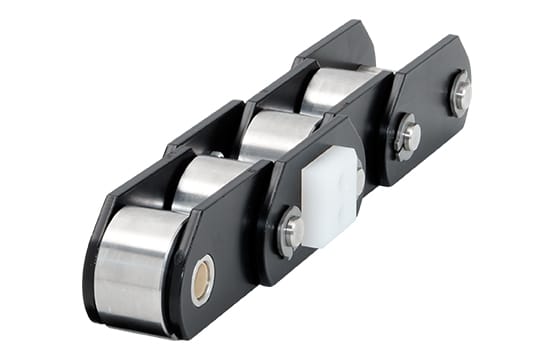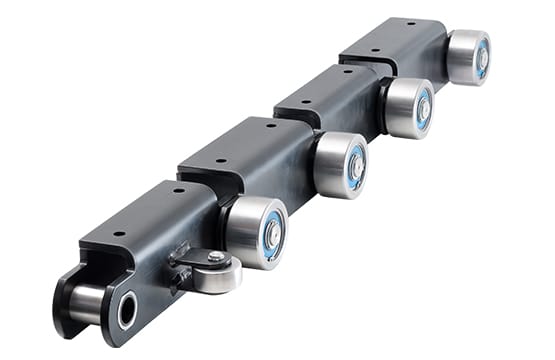 CC5 Chains
Nationwide almost all automotive plant use CC5 chains. KOBO has a proven record for CC5 chains of many years in the United States and Europe, where we work with all known OEMs. The CC5 design is still in place due to its simplicity and success for several decades. KOBO kept improving the regular CC5 design to a lubrication free system. Low maintenance and no lubrication are huge cost saver over a chain's lifetime. With our CC5 modular system you can adjust the sequence of the guide roller from CC5A without rollers, to CC5B with a roller in every inner link in seconds.
Wear blocks are available in different designs, plastic or steel, screwed, welded or clipped on.
Scrap Metal Conveying
The first step in manufacturing cars is the deformation of flat sheet metal to complex single automotive parts. These components are stamped in the press shop. Finished pieces move forward whereas scrap metal needs to be removed from the work shop. KOBO manufactures chains, sprockets and complete assemblies with flights for the scrap metal removal. We are your one stop shop for conveyor needs.
Overhead Conveying
KOBO is specialized in drop forged chain applications such as 678, 458, etc.. Smooth links for longer wear resistance and availability in the US make us a recognizable alternative.
High strengths alloys are used to minimize wear in the joint for a longer chain life. We harden all chain components before assembly. We are a leading supplier for chains and sprockets worldwide.
Final Assembly
KOBO is your partner for slat conveyor lines in the automotive industry. Multiple projects, all over the globe have been realized for many different car and truck brands.
KOBO slat conveyor chains are running in the following areas of automotive plants:
Assembly Line
Filling Line
Water Testing Line
Conservation Line
As a one stop shop we supply complete chain systems including chains, slats and shafts with sprockets for drive and conveyor chains. All designs are custom made and can be manufactured lubrication free or in standard lubricated version according to customers designs.
Chains in the filling line or in the water testing line are manufactured with stainless steel or galvanized components.
KOBO's roller chains and drive chains are used in almost every application in an automotive plant. KOBO's portfolio goes from high strength roller chains to galvanized, nickel-plated, dacromet-plated chains and lubrication-free chains.
Chains and sprockets belong together. The performance of a chain is dependent on the quality of the sprocket. KOBO manufactures sprockets in house. Our sprockets are custom made and can be manufactured as split sprockets, tooth rims with hubs, with or without noise reduction feature. Teeth and tooth gaps are induction hardened to match the hardness of the interacting chain bushing or roller. We manufacture simplex, duplex and triplex sprockets up to a diameter of 5.5ft.
KOBO takes care of the environment by manufacturing lubrication free chains. Using lube free chains does not only protect the environment in saving natural resources, they also eliminate maintenance work and create additional savings throughout the lifetime of the chain. In addition, the lubrication free chains eliminate the "human factor" in maintenance. Almost every chain can be designed as lubrication free.
Chain technology from Germany since 1894. Quality Progress is our tradition.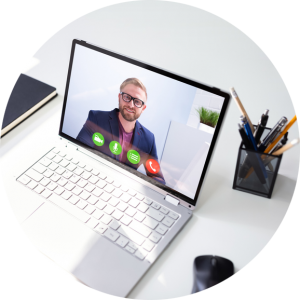 "Striving for product improvement through cooperation with our customers makes us "The Chain People". That is what we work hard for every day!"
Dominik Stracke, CEO KOBO USA, LLC